Henan province, China warm wellcome to Primozone
Our visit to the two Primozone pilot installation sites, Heqi and ZhongFu power plants gave us the chance to explain and clarify valuable cost reduction opportunities and possibilities that Primozone Ozone systems offer our customers.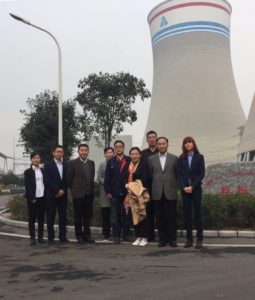 Power Industry in China is known for being rather conservative and conventional when selecting suppliers and solutions. Therefore, Primozone is pleased to be recognized, based on proven track of performance and consistency, as reliable and value creating alternative to existing conventional ozone solutions, now also in China.
Ozone is a strong disinfectant and a fascinating substitute for the chemical biocides in cooling towers. Bacteria can adapt to chemical biocides and become immune to them over time, but not to ozone!
The use of Ozone and especially Primozone ozone solutions in cooling towers has beneficial advantages
Ozone is produced on-site and needs no storage of hazardous chemicals
Ozone requires no additional disinfectants
Very effective in removing biofilms and very effective against Legionella bacteria
Lower operational costs and as a result lower overall costs
Higher efficiency of the condensers due to reduced biofilm formation
With Primozone Ozone solution additional advantage
More efficient mass transfer, due to higher gas concentration
Easy to place in already existing site, due to small footprint
Shorter time for spontaneous ozone depletion in the ozone distribution pipes, thanks to higher gas pressure
High concentration and performance ensured over the whole dosage range
Possible to design the system exactly for the calculated ozone demand, then easily upgrade/expand the ozone system if needed, thanks to the modular design
Please contact our industry specialist to find the right solution for your project.