Primozone strengthening presence in South Korea
Primozone emphasises on cooperation and joint forces with selected partners to continue refining knowledge and providing modernised, complete and reliable solutions for our customers. Therefore, we are happy to announce that Primozone and our South Korean partner- PAOR has reached an agreement to strengthen cooperation and to include patented MSD System (Main Stream Diffuser) from PAOR in Primozone Systems.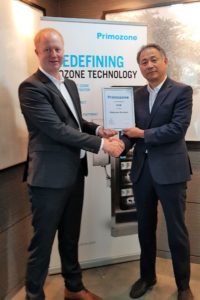 The Main Stream Diffuser System is a joint development project between the Daegu Metropolitan City and PAOR, which provides greater advantages in comparison with similar technologies available in the market today. The MSD has been verified and confirmed, it is installed and in operation in Several Water Treatment plants in South Korea. The New Excellent Technology (NET) approval from the Ministry of Environment in South Korea as well as Globe Group in Canada had already granted their approvals for MSD System. Since 2015, PAOR and Primozone had already successfully delivered several larger projects in South Korea, both in drinking and industrial water plants. Result, reinforced by customer feedback states that, Primozone Ozone generator in combination with the MSD system from PAOR is flawless combination.