South Korea. PAOR and Primozone the perfect match of technology and competence
 "This prestige order is the finest demonstration that Primozone and PAOR together have that perfect match of technology and competence to meet the innovative demands of the future water treatment facilities", says Jürgen Bischhaus, Primozone.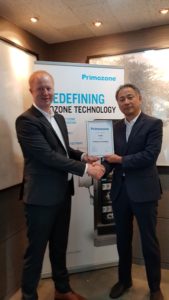 Primozone together with our trusted partner PAOR CO LTD, in South Korea, has been awarded to supply innovative ozone technology to the Industrial Water Cluster of Korea, based in Daegu Metropolitan City. Mentioned Water cluster will consist of three mini plants, showing the water treatment technology of the future for drinking water, wastewater, and re-use of water.
Water cluster of Korea is aimed to demonstrate the new opportunities for the modern treatment plant, using innovative technology to achieve the most efficient and cost-effective treatment, not solely from the investment perspective but stressing on the total lifetime of the treatment plant.
Primozone is responsible for delivering a number of high concentration ozone generators, that in combination with PAOR patented Main Stream Diffuser (MSD) to increase oxidation efficiency, will provide seamless treatment results with lowest energy and oxygen consumption.
The installation of the ozone system will take place during summer 2018.